RED KOMODO NOW SUPPORTED
(Use Samsung 860 EVO SSD)
---
Backordered, shipping in 2-3 weeks
NEW VERSION COMING IN OCTOBER 
---
---
With easy to obtain, affordable, and high-speed M.2 SATA SSD, SolidPod Lite can save you hundreds to thousands of dollars comparing to expensive CFast cards, without compromising performance.
Specification
Weight

~90 g / ~0.2 lb

Dimensions (w/o cable)
    Without NATO clamp

112.5×28

×

8.75 mm

    With NATO clamp

112.5×43

×22.75

 mm

Supported SSD Type

M.2 SATA SSD, SATA Revision 3.0/2.0

Maximum SSD Height

4 mm
Customer Reviews
10/12/2020
Michael M.
United States
Works Great
It mounted immediately in the C200. I had only one issue with it. It would not mount with the CFast card reader I had. There was some conflict. I bought a new CFast reader and it worked perfectly.
10/09/2020
Robert F.
United Kingdom
09/04/2020
Hoang D.
United States
Error with c200
I got 2 lites one, with crucial mx500 that is recommended on the site, my c200 gives error code cfast:check your data, not always but very often. Not a good product for professional use.
07/30/2020
Daniel D.
Germany
Great Product - Lets see how it holds up in the long term
Speedy delivery, excellent packaging and presentation. The SSD housing itself feels really solid and the integrated nato rail mount is excellent! Allows for a really low profile installation on the rig. The only thing that got me worrying a little bit is the connection of the cable to the CFast Adapter. This seems like a connection point that is prone to fail in the long term, especially with cameras like the C200 where you have to pinch the cable in the CFast slot while closing the door. To the NKI Team: Please make a version 2 with a detachable cable on the SSD side - USB-C or even a proprietary cable. This would reduce the stress to the cable on the cfast side dramatically.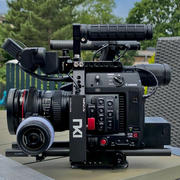 07/24/2020
Raymond W.
United Kingdom
Small and convenient solution for SATA via CFAST 2.0
The best way I've come across to date for recording on SATA via the CFAST slot on my Z Cam.Attaches to a NATO rail easily and is unobtrusive.
FREE SHIPPING TO MOST COUNTRIES

30-DAYS FREE RETURNS

ONE-YEAR WARRANTY

SSL SECURE CHECKOUT